BOTOX® IS A SAFE AND EFFECTIVE WAY TO REDUCE FINE LINES AND WRINKLES. 
Botox® is used as a treatment to reduce wrinkles and fine lines in adults over thirty.  Constant contraction and tightening of muscles over the years leads to wrinkles.  Botox® blocks those signals from the nerves to the muscles, resulting in reduced muscle activity, temporarily preventing those lines and wrinkles.
Beyond aesthetic applications, Botox® has been found useful in treating a variety of medical conditions including eye squints, migraines, excess sweating and more. Botulinum toxin is currently used to treat over 20 different medical conditions, with more applications under investigation.

You can take years off your face and smooth out your skin with Botox®. Dr Nightingale Dermatology Aesthetic in Ellsworth, Maine and St. Albans, Vermont, has specialized training in Botox injections, so that you can expect optimal results.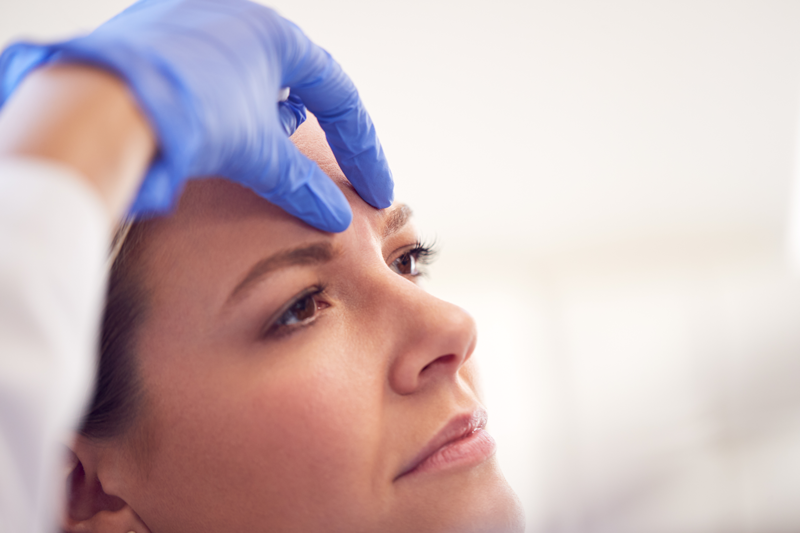 Find out if Botox is right for you by booking a consultation today! Schedule your visit by calling (844) 800-2919.
Botox Frequently Asked Questions
Q: How does Botox work?
A: You develop lines and wrinkles throughout your face with each facial expression you make. As you age, you gradually lose skin-firming collagen and elastin, causing wrinkles. But the signs of aging also surface because of muscle contractions, especially as your facial muscles start working closer to the surface of your skin as you lose that layer of cushioning fat.
Botox® is a medical-grade FDA-approved solution derived from a strain of a botulinum toxin. Upon injection, Botox immediately starts blocking nerve activity in your muscles, minimizing their twitching and contracting effects. This allows your skin to smooth out, lessening the appearance of wrinkles while simultaneously preventing further signs of aging.
Q: What can Botox treat?
A: Botox is ideal for smoothing out lines and wrinkles that form around your eyes and mouth. It can also minimize the appearance of:
Crow's feet

Forehead lines

Smile lines around your mouth

Frown lines between your brows
Even though Botox helps your facial muscles relax, you can continue to make your normal facial expressions, so your results are entirely natural.
Q: How long does Botox last?
A: Botox is a temporary anti-aging solution, but results are long-lasting. You can expect smoother, younger looking skin for up to four months. In some cases, your Botox results may last even longer.
Q: Is Botox painful?
A: Dr Nightingaled is train in Botox injections, so the injections are as quick and painless as possible. While it is normal to feel slight pinching at the injection site, you shouldn't be in pain.
Make an appointment with Dr Nightingale for a consultation by calling (844) 800-2919.

Procedure Length: 15 to 20 Minutes
Prices starting at $14.00/unit
Botox (Botulinum Toxin A) is a procedure used for the treatment of facial lines and wrinkles. It has been used for other medical conditions for more than a decade and is a safe and effective way of treating aging skin. It is used to eliminate or reduce worry and frown lines, crow's feet, laugh lines and or wrinkles. 
Trust Dr. Nightingale with 
all of your cosmetic skin care needs!
Offering the most up-to-date treatments in aesthetic dermatology at competitive prices. Call us for a consultation and discover what we can do for you. 
248 State Street, # 3A
Ellsworth, ME 04605
16 Railroad Street
Essex Jct, Vermont 05452