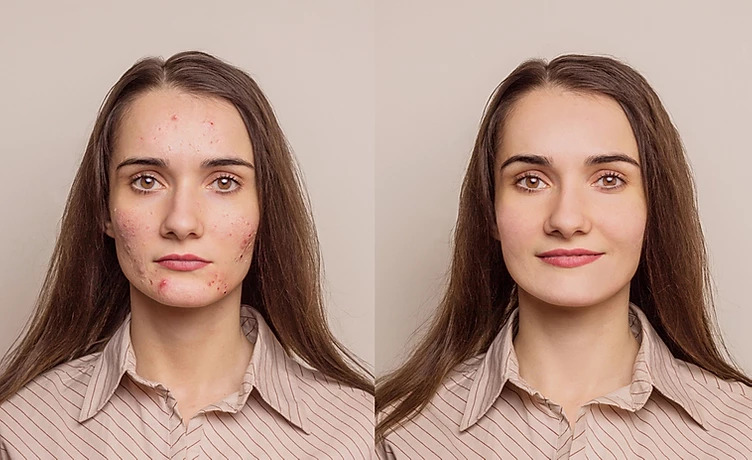 Acne is a common skin disease that affects most of the people at some point in their lives.  Acne is more common among teenagers because it is only with the onset of puberty that the body begins to produce hormones. People often squeeze spots and blemishes because of their unpleasant appearance. This can, however, cause increased inflammation and in extreme cases lead to permanent scars of the face.
Lasers have been used for years to treat acne scars. In such treatments, the laser is used to remove skin so that new skin can form in its place. Unlike chemical peels and dermabrasion, with laser resurfacing the penetration depth into the skin is more easily controlled. The laser gently vaporizes the acne-scarred surface of the skin so that undamaged skin below is revealed. 
Number of Treatments: 

1 to 4 depending severity
Procedure Length: 30 to 60 Minutes
Photodynamic Therapy can also be used to treat severe acne with mild scarring. Photodynamic therapy uses the photosensitizing medication Levulan and blue light. Levulan is absorbed into the sebaceous glands, which play a major role in the cause of acne. Light activation of Levulan causes a temporary destruction of the sebaceous glands and bacteria and also causes exfoliation of the outer skin layers, which results in improvement in the severity of patients' acne scars.
Number of Treatments: 

2 to 4
Procedure Length: 2 to 5 Hours
Down Time: 

Sun avoidance for 48 hours
Trust Dr. Nightingale with 
all of your cosmetic skin care needs!
Offering the most up-to-date treatments in aesthetic dermatology at competitive prices. Call us for a consultation and discover what we can do for you. 
248 State Street, # 3A
Ellsworth, ME 04605
30  Congress Street, # 202
St. Albans, Vermont 05478