Unfortunately, we can't stop the march of time. Our collective desire to stay forever young has created an enormous market for anti-aging treatments. Until recently the overwhelming majority of such treatments involved the use of lotions and moisturizers or cosmetic surgery to improve the appearance of fine lines and wrinkles. However, recent developments in laser technology are now delivering a longer lasting scientifically proven method of restoring the natural beauty of the skin.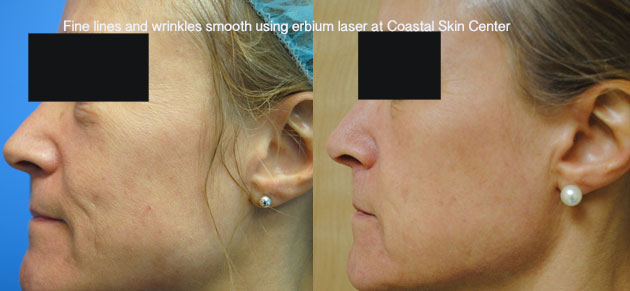 Erbium lasers use a laser beam to gently vaporize a thin layer of the epidermis. The heat from the laser energy also stimulates the production of new collagen in the dermis. The overall result is that new skin forms which are smoother and tighter. Consequently, laser resurfacing can remove nearly all fine wrinkles while significantly improving deeper more dynamic wrinkles.
Unlike traditional treatments such as dermabrasion and chemical peels the unique characteristics of lasers mean that your doctor can have much more accurate and precise control over the treatment, especially how deep the laser penetrates your skin.  An additional benefit of laser resurfacing is that the healing and recovery period is faster than with traditional treatments.
Number of Treatments: 3 to 4
Procedure Length: 30 Minutes
Q-Switch lasers (MedLite laser) work by stimulating collagen production, decreasing the appearance of lines and wrinkles in many body areas including the face, hands, neck, and chest. Skin rejuvenation, using the MedLite laser, is non-ablative (does not remove any skin) and has several benefits over other traditional laser procedures. This treatment is quick, offers no downtime, has minimal discomfort, and has a very low risk of any complications. Patients will experience progressive improvement over several months for a fresh, natural look.  Patients of all skin types can be safely treated – including tanned skin.
Number of Treatments: 

6 to 8
Procedure Length: 15 to 30 Minutes
Trust Dr. Nightingale with 
all of your cosmetic skin care needs!
Offering the most up-to-date treatments in aesthetic dermatology at competitive prices. Call us for a consultation and discover what we can do for you. 
248 State Street, # 3A
Ellsworth, ME 04605
16 Railroad Street
Essex Jct, Vermont 05452