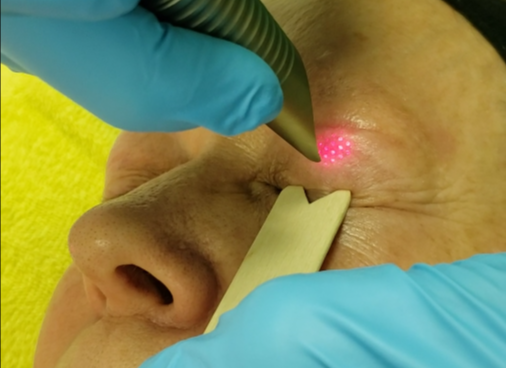 In the past, the only treatment for sagging eyelids and brows was to have them surgically cut and sewn tighter (blepharoplasty). Now there are non-surgical options that tightens loose and aging skin of the eyelids and periocular region with little-to-no downtime.

SmoothEye® is a safe, minimally invasive, non-ablative thermal treatment for sagging eyelids. It offers immediate freshness and tightness of the periocular area. This laser treatment stimulates collagen remodeling and initiates neocollagenesis while offering little-to-no downtime.
Number of Treatments: 6 to 8 (2-4 week intervals)
Procedure Length: 20 to 30 Minutes
Maintenance: 6 to 12 Months
Down Time: May have mild swelling for 2 to 3 days, redness for 24 hours

Discomfort: Mild discomfort for 24 hours 
Trust Dr. Nightingale with 
all of your cosmetic skin care needs!
Offering the most up-to-date treatments in aesthetic dermatology at competitive prices. Call us for a consultation and discover what we can do for you. 
248 State Street, # 3A
Ellsworth, ME 04605
30  Congress Street, # 202
St. Albans, Vermont 05478